I was very excited when I was asked to supply hat and fascinator samples for a photo shoot with none other than Hello! Magazine at the prestigious Meydan Racecourse where the Dubai World Cup is held.
The blustery morning started off at one of the suites at the Meydan Hotel, the stylist was preparing the clothes for the shoot laying the different stories out on the bed and steaming and preparing the garments for the shoot and I was like a kid in a sweet shop again!
I was in my element; a room filled with amazing and beautiful outfits, stunning dresses from Versace, Gucci and Pucci, bags from Hermes and Chloe, glasses from Chloe and shoes from Christian Louboutin – what girl would not be happy, surrounded by such luxury and with a table fully laden with Louboutins?!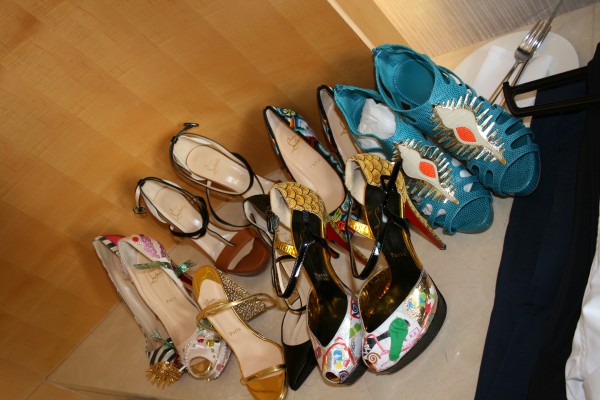 I fell in love with the salmon-coloured mini braided clutch bag with it's amazing tiny clasp detailed with two pairs of heels either side, oh so very Parisian!
The gorgeous model Rose from Chelsea, London arrived and had her makeup done while I tried to stay focused on the outfits and work out which fascinator would match up best with the outfits, thankfully I had enough hair accessories that matched.
The first outfit was an amazing Versace green/blue and lime silk handkerchief hemlined dress worn with a pair of super-high royal blue and cream Louboutins. I teamed it up with my amazing royal blue and green fascinator which I had hand-beaded, it was an uncanny match, almost perfectly made for the outfit and looked absolutely stunning. It would be a fab combination for any Dubai World Cup race goer!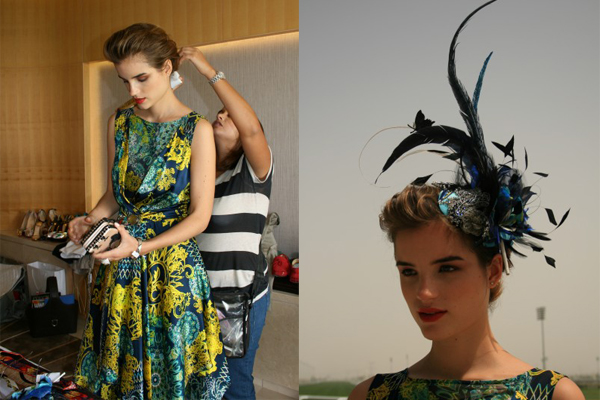 The afternoon progressed and I had a crash course in photography from the super helpful and very talented photographer Farooq Salik. Despite being an novice photographer, one of my ideas for doing a shoot against the symmetrical Bauhaus wall was used: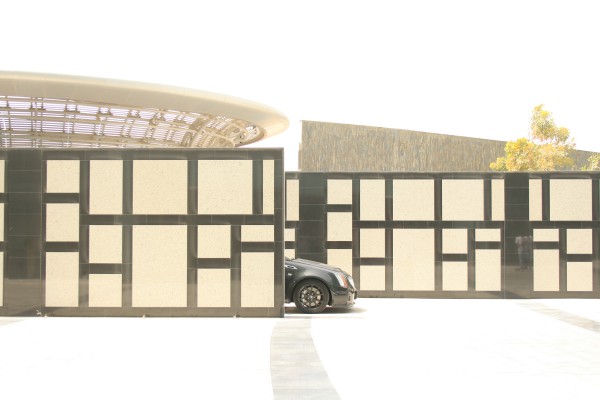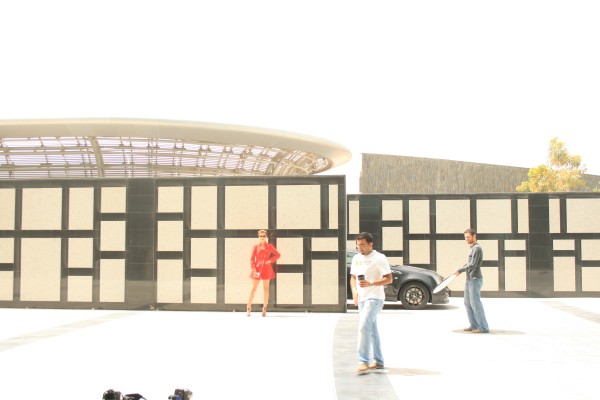 The shoot was to be inside the lobby of the Meydan hotel with some amazing reflections and shadows coming through the massive reflective glass. The outfit was a stunning pair of Gucci silk trousers with had a massive slip down the side of the leg and tied at the ankle.
I paired it up with a new black and white circular fascinator which has giant wire circles and a large feathered mount: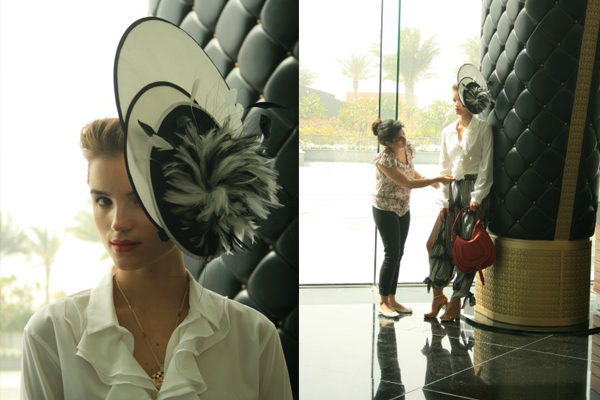 The next couple of shoots were outside and by this time everyone was fighting against Dubai's prevailing winds and I think Rose was struggling keep her balance in the Versace dress!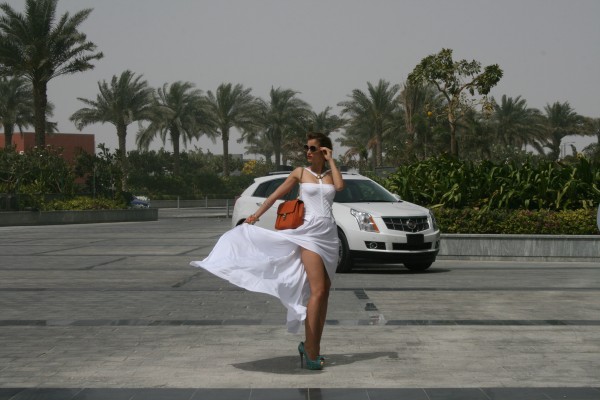 Finally, for the last shot of the day using my fascinators Rose worse a very sweet flower dress which was topped of with a baby pink fascinator that has a sinamay wire swirl with a baby pink barb and a side organza flower.
I had an amazing behind-the-scenes day so a huge thanks to Hello! for featuring my fascinators for the Dubai World Cup.