I was really honoured when the Australian Business Council Dubai invited me to be one of their three judges for the best dressed & best hat competitions at their Emirates Melbourne Cup Breakfast. It was held at the Parade Ring Restaurant at Meydan Racecourse.
The morning kicked off at 7.00am, with Canapés served on the terrace. Bubbles and a gourmet breakfast were served at 8.15am after the Melbourne Cup! Not being much of an early bird myself I found it lovely that lots of the guests had made such an effort to dress up, although it was not surprising with the spectacular prizes to be won.
Below was my chosen creative hat of the day as worn by the lovely Elisa. Given we were all there for the Melbourne Cup it seemed fitting that this piece was made by Australian milliner Kim Fletcher. As just rewards for choosing such a beautiful hat, Elisa won a bespoke hat made by me; I am really looking forward to creating something equally as stunning and I can't wait to get started! I will be sure to post pictures of my creation when its complete.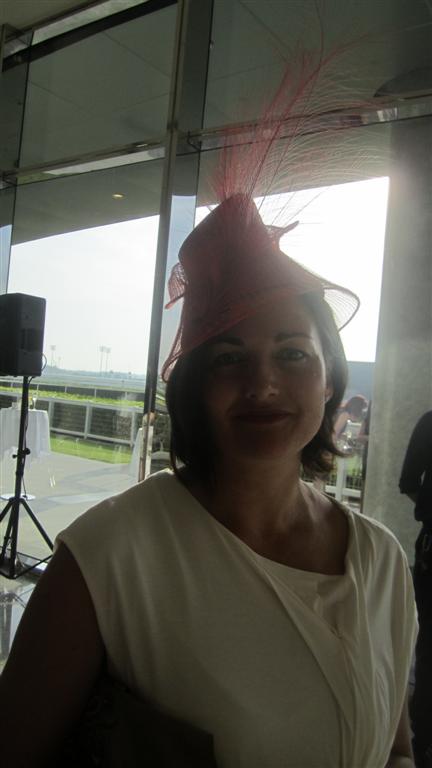 Sponsors of the event, Dhamani Jewellers, showed off their 'million dollar hat', below. The black colored straw and silk hat is covered with an amazing array of diamonds in a range of different colours. Personally I would have decorated the diamonds on a lighter coloured hat, but I suppose they needed them to stand out after all!
It's always nice when you see men making that extra effort to dress up because, let's face it, it's not that often that they do! I love this stripy Ted Baker shirt with matching paisley cuffs and tie – 10/10 for effort, you can always count on Ted Baker to make fantastic men's shirts!
A classic look was chosen for the best dressed girl; you really can't go wrong with black and white for race day, it's a very chic, timeless, 'Breakfast at Tiffany's' look that is always a winner.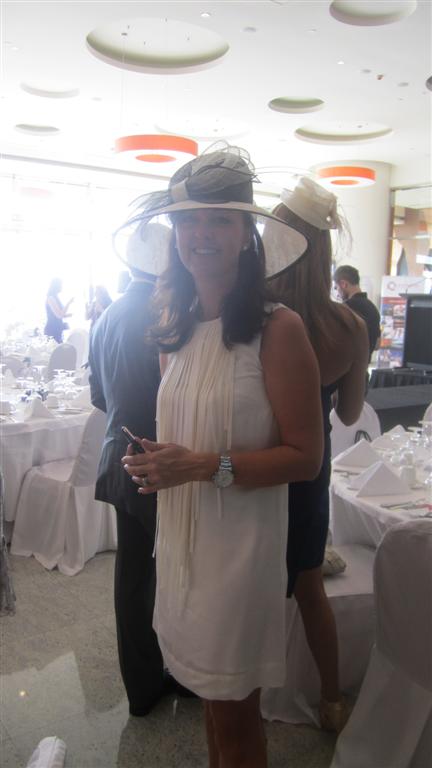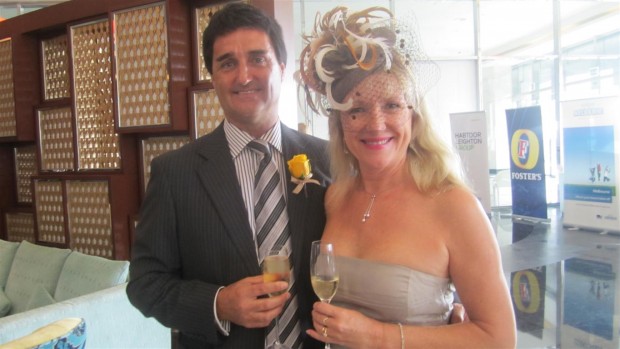 After walking round the room and viewing all the lovely outfits and hats, below are a couple of my favourite outfits. I love this silk chiffon Pucci kaftan top, it's so elegant and in such lovely soft peach and blue colours which compliment her skin and hair tone perfectly. I've always been a huge fan of Pucci for as long as I can remember and can spot his amazing prints anywhere, very stylish.
I also love this dramatic contrasting outfit in some amazing bright colours and Aztec prints, it's such a statement outfit, she has teamed it up with some great matching coloured accessories.
One of the judges was the lovely Anita, editor at Hello magazine. We were both presented with an amazing bouquet of flowers which was the perfect ending to a fantastic morning, thanks to the Australian Business Council.